Shipping Weight: 1966g
Country of Origin: New Zealand、Brazil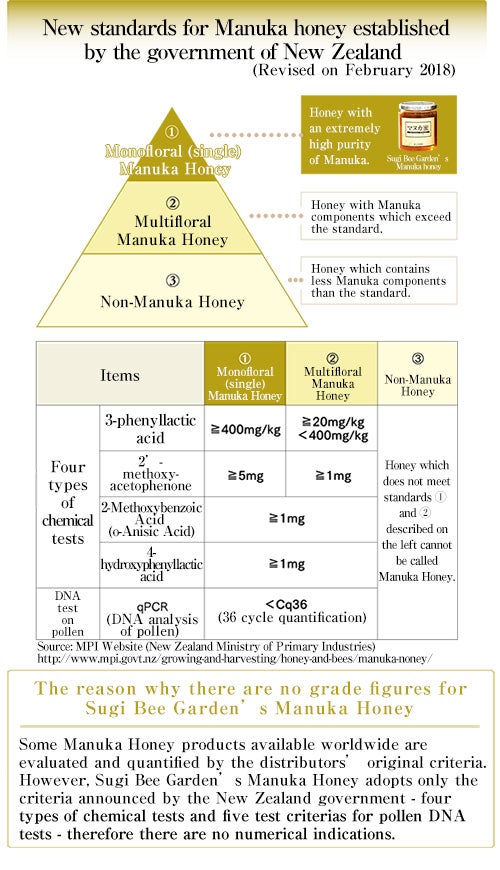 Campaign Period: October 15, 2019 ~ December 31, 2019
Currently, the Manuka Honey increase promotion is underway!
During the promotion, if you buy "Manuka Honey with Propolis 500g*2," you will also get "Manuka Honey with Fresh Royal Jelly Stick Type 5g × 14sticks!"

Manuka Honey that has been the focus of attention recently has been blended with Propolis.

Sugi Bee Garden's "Manuka Honey", the top ranked monofloral Manuka honey, is popular among many customers now comes with the addition of "Propolis".
Be sure to try out this honey as part of your daily health routine.

Product characteristics
This is a luxurious combination of "Propolis" and "Manuka Honey" that only we can produce.
In contrast with Manuka Honey, there is 2.4% of Propolis contained.

Pure propolis
Propolis protects beehives.
Propolis is made by honeybees from buds or resin from baccharis trees native to Brazil. It contains useful ingredients such as natural flavonoids, vitamins, minerals, and more.

How to Take
Please take roughly 2-3 spoon-sized servings every day.。


---
*Colors and Flavors of Honey may differ by the locality and season.
*Pure honey might crystalize depending on its type of flower and the temperature of storage. The phenomenon does not affect the quality. The white crystal is also enjoyable. Please be at ease and enjoy the natural flavor. If you prefer to taste smooth honey, please take the amount needed and water-bath it in 40-42 degree hot water.
*The actual product might have a different color from the product photo. Label design might change but content remains the same.
*Honey is a natural product. Please do not feed to infants below 1 year old.
---
How to Store
Store it in a cool and shady place.Do not leave it in any place exposed to direct sunlight or with high humidity. After opening, store the bottle directly into a fridge.
---
Ingredients
Manuka Honey (MADE IN NEW ZEALAND), Propolis (Made in Brazil)
---
Nutrition information
Nutrition facts (per 100 g):
Energy 325kcal, Protein 0.3g , Fat 0.1g, Carbohydrates 80.8g, Sodium 23.7g(salt equivalent 0.06g)
---
Allergy Information
N/A
*Please check ingredients. If you have food allergies or asthma, please do not take this products.